As the prices of a single-family home in the capital region continue to hike higher, more and more first-time buyers are looking at purchasing a condo. Not only is the purchase price less but also the down payment requirements, making it easier for buyers to hop into ownership for the first time, and after you're in, subsequent purchasers can become easier. Plus, with many first-time buyers getting financial help from their parents, buying that first condo is more attainable.
The Condo Group, Victoria real estate, Victoria BC condos for sale, MLS Victoria condos, Condo Victoria, Victoria BC condos, Condo for sale Victoria, Victoria condo, Condos, Condos for sale Victoria BC, New condo development Victoria BC, Victoria condos for sale, condo for sale in Victoria BC, Victoria condos, Condos for sale Victoria BC, Condos Victoria, New condos Victoria BC, Condos for sale, Condos for sale Victoria, Condos in Victoria, real estate agents victoria bc, real estate in victoria bc, luxury real estate victoria bc, first time home buyer, mortgage, buying first house, first time buying, first time owner, first time buyer, first time home buyer, first time buyers, first time condo buyer, tips for first time home buyers
As single-family home prices continue to soar, first-time buyers opt for purchasing condos instead.*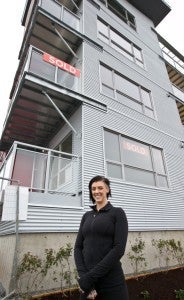 With new developments going up all over Greater Victoria and a strong resale market, the selection available to these first-time buyers is ample. Regardless of what your budget or your wishlist is, there is something perfect for you to call home.
As we near the completion of Bond's Landing III, the latest phase of condos released in the RailYards community, one of our #CondoExperts' clients was interviewed by the Times Colonist on her thoughts as a first-time buyer. The full article can be read here: http://www.timescolonist.com/business/condos-appealing-to-younger-buyers-1.2150768.
Are you in the market as one of these first-time buyers? Give us a call and let the #CondoExperts help you find the right condo to call home.